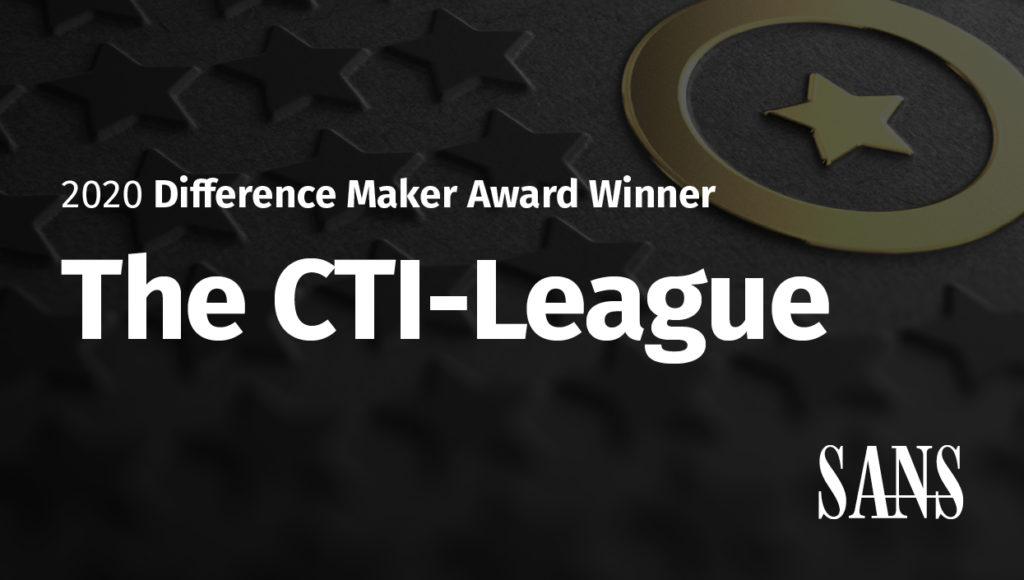 We are excited to have a great achievement to share with everyone, especially those who have contributed and/or benefitted from our impact: SANS chose the CTI League as one of their 2020 Difference Maker Award Winners!
Read Ohad Zaidenberg speech from the award ceremony:
I want to thank SANS for highlighting the CTI League, our amazing community and organization to be, as part of SANS 2020 Difference Makers.
Only 9 months ago, in March 2020, we decided to create the CTI League. We didn't know what exactly we would like to do, but we knew one thing – Coronavirus is a war and we have to take our part in this war. We can't fight in the field like the doctors and the nurses, but we have to support them somehow. What if the malware is used to compromise hospital security? What would happen if ransomware encrypts all the systems in the hospital?
We created a community of experts, that operates as an organization, and can make a real change for the hospitals, the medical sectors, and other life-saving organizations that can't protect themselves. 1500 people from more than 80 countries joined me and my partners – Marc Rogers, Nate Warfield, and Chris Mils. Together, we all spend nights as days to do something different – instead of competing with each other for profit, we work together, united for a superior mission. Each expert has his own resources, capabilities, and visibility, but together, we are a power that no one can have alone.
In the last 9 months, the CTI League is my power to wake up in the morning after only a few hours of sleep, knowing that we all want to make a change in the world, work together to save lives.
It is a long and challenging journey.

The CTI League started as a community, people that wanted to do some good during the pandemic. We made something bigger – we overcame silos and barriers worldwide, and we will keep doing in the future.
We are long-distance runners, and in the next few months, we will continue to grow, we will form the CTI League as a non-profit organization, supply more services, and help the people that fight for our lives. During the Corona crisis, and after. I want to thank SANS for the honor, for believing in our dream to make a difference.
It is an honor to work with all our members, volunteers, we are so proud of them and I would like to thank each one of them for the time, the goodwill, the efforts, and the contribution. This prize belongs to you!